Staying Healthy at Davis Park
With all the fresh air and sunshine people come to Davis Park to relax and vacation with family and friends.  And while everyone should take precautions from the obvious outdoor elements at any beach side resort including being careful in and around the harbor, playing in the ocean surf, and being sure to apply sunscreen and avoiding long exposure to prevent sunburn, there are a few other things Mother Nature has given to the residents of Fire Island that you should be aware of.
Taking a few simple precautions will ensure you and your family have a safe and healthy experience at Davis Park.
Poison Ivy (Toxicodendron radicans)
This three-leafed plant is ubiquitous on Fire Island (and throughout North America).  It can be identified by its distinct, shiny leaves, clustered in groups of three on a vine that grows close to the ground or ca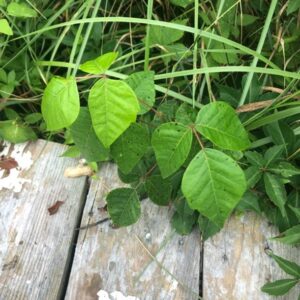 n stretch as a vine into trees.  The old saying, "Leaflets three, let it be" is to be heeded.  Even a brief skin exposure to the oils (urushiol) on the plant can result in an intensely itchy skin rash that can potentially last for a week or more.
Although people differ in their sensitivities, a typical rash will usually appear within a few days of exposure and cause itching, weeping blisters that can last for a week to 10 days.  Washing and scrubbing immediately after exposure can limit reactions.  Treatment is symptomatic with cold compresses, calamine lotion, or hydrocortisone creams to relieve the itching.  If the rash is severe or extensive, or if it occurs on the face or genital region, medical assistance should be sought.  But the best way to avoid exposure is to stay clear of this plant!
Lyme Disease
Lyme disease is bacterial infection caused by the bacterium Borrelia burgdorferi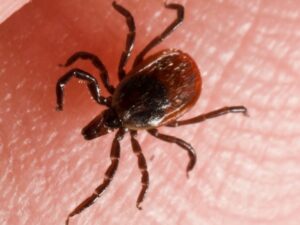 and is the most common vector-borne disease in the United States.  The bacteria are transmitted to humans by the bite of the blacklegged (or deer) tick (Ixodes scapularis).  In general, it takes up to 24 hours for the bacteria to be transferred from the tick into the human host bloodstream and so it is important to remove the tick promptly and properly as soon as it is discovered.  If you think a tick has been attached for more than 24 hours but less than 72 hours, a single dose of the antibiotic doxycycline has been shown to greatly reduce the chance of acquiring Lyme disease by eliminating the bacteria from the circulation.